The gardens and the arboretum

It all begin in the Parc de Saint Cloud, at the foot of the Trocadero gardens near Paris. The park's sinuous alleys, thickets, ornamental ponds and aviary were my playground during and after school. The park was created for the "children of France" – nephew and niece of the King – during the reign of Louis XVIII and Charles X and holds a rich and diverse collection of botanical delights. The splendid shaded greenhouse and sunny terrace were memories of another life in Africa. There was also the bamboo garden, her memory of Asia, where she had lived for a time. Finally, my adolescence, spent in the gardens of Surrey, Great Britain. This manor has been my home for 27 years. A garden, for me, begins with its buildings and moves outward thoughtfully and with feelings. So, I started by working on the house. Giving me time to observe the nature, time to welcome my three children into the world, time also to take inspiration from all that existed around my home and elsewhere.
At first, I bought fruit trees, English rose bushes and perennials and I planted them around the manor. Aware that I still had a lot to learn, I took courses on botany, gardening and the history of gardening. Some villagers gave me a nineteenth-century monograph, which allowed us to recreate a small stately home in line with the last terrier. We have slowly but surely recreated this connection – which I hold so dear – between the building and plants.
We have worked hard to preserve the area's food-producing heritage. We laid out the gardens, diversified the crops and planted ancient varieties. Today, Domaine de Poulaines is much more than a garden: it's an
arboretum
, an orchard and a botanical garden. Domaine de Poulaines is a haven of biodiversity and a botanical conservatory that is home to more than 300 species to delight our visitors.
Valérie Esnault
Calendar of blooms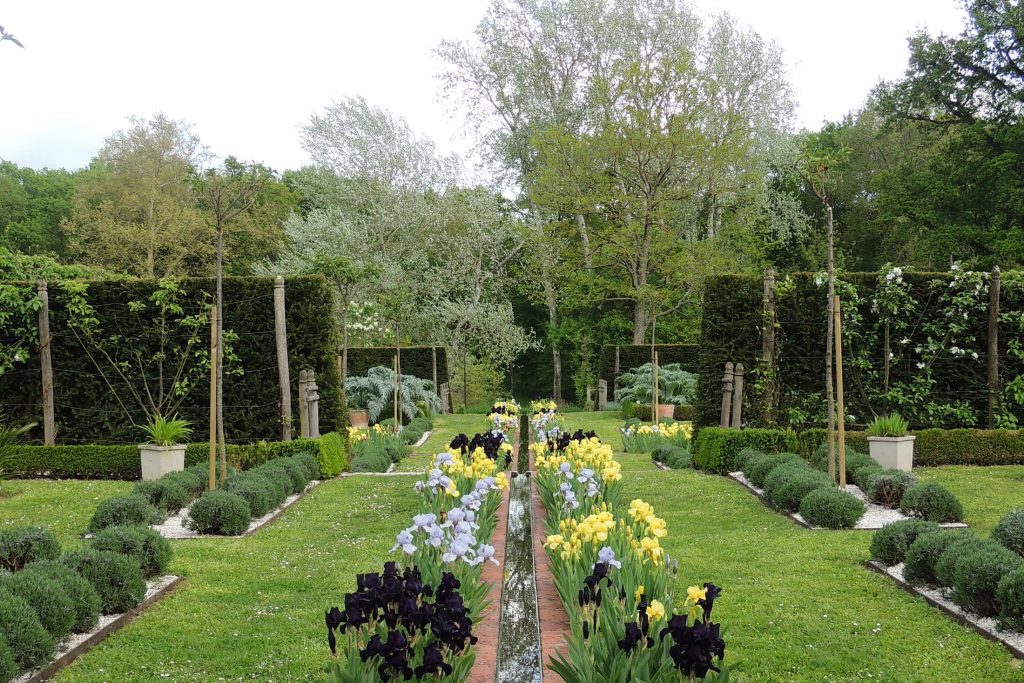 Spring
Flowering of late narcissus, alliums, eremurus, lilies, iris, peonies (shrub and herbaceous), rose bushes, perennials, magnolias, lilac (syringa), cornus, florida and kousa, viburnum, shadbush, deutzia, cladrastis, davida, michelia yunnanensis, clematises, chinese and japanese glycine.
All the small fruits.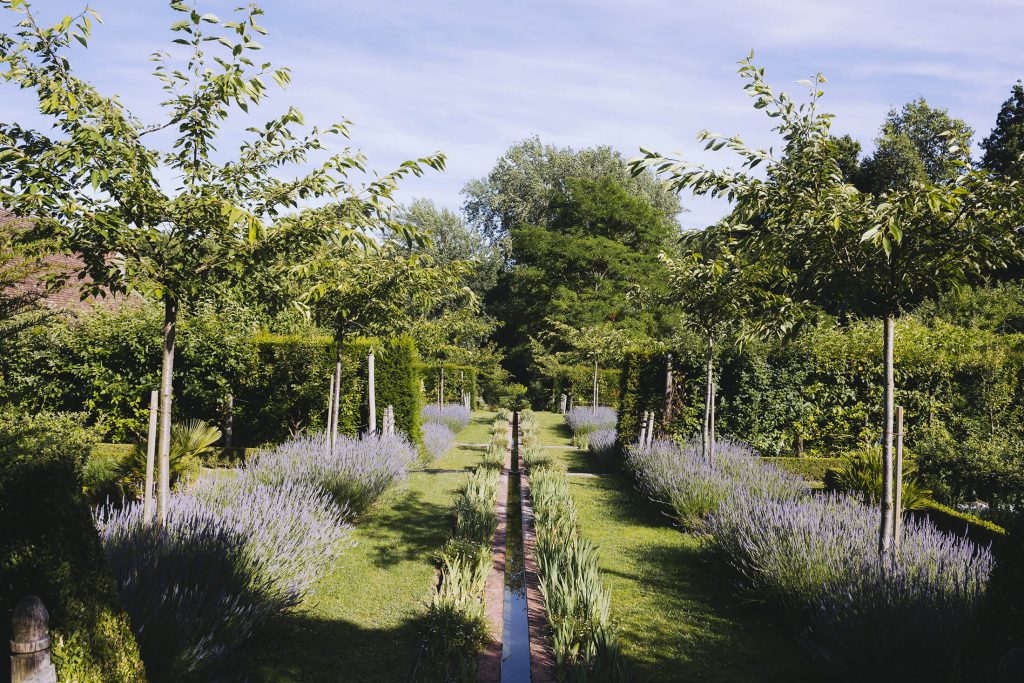 Summer
The aromatic plants and herbs, mints, hemerocallis (daylilies), crocosmias, lavender, dahlias, agapanthus, potentillas, salvia and other perennials, liriodendron, catalpa, sophora japonica, styrax, aesculus parviflora, abelia, ceanothus, clerodendron, indigofera, itea, weigela, hibiscus, buddleias, hydrangeas, vitex.
Water lilies and lotus.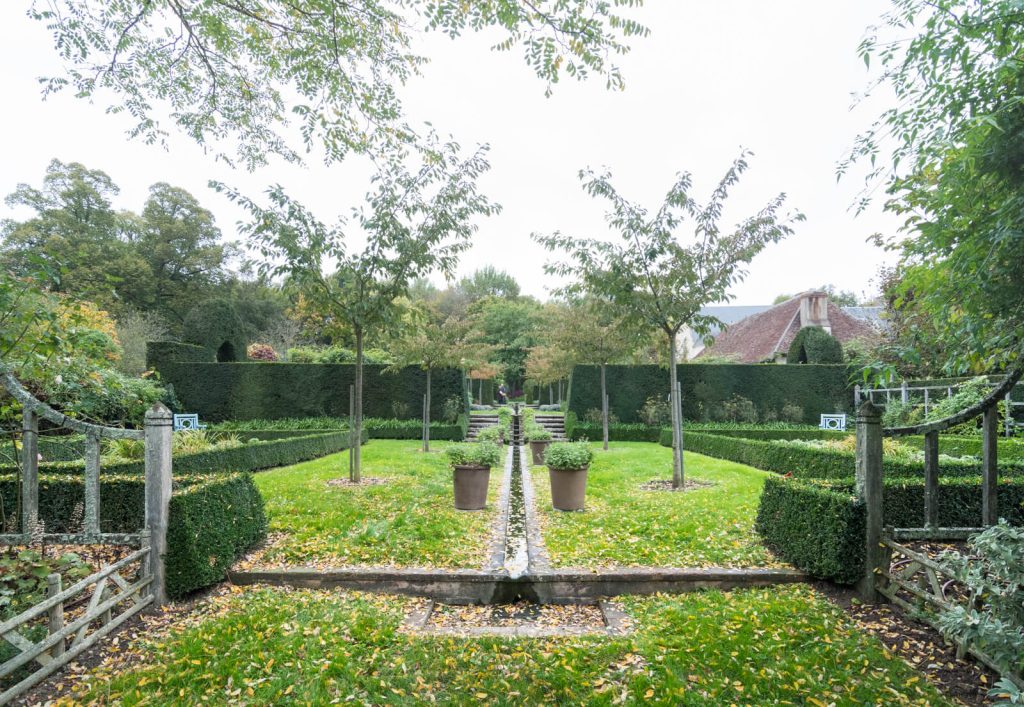 Autumn
Colours of the foliage, acer, taxodium, metasequoia, quercus palustris, nyssa, carrya, gingko, parrotia (ironwood), stewartia, euonymus…)
sedums, heathers, asters, gramineous, rose bushes, repeat-flowerers, elaeagnus, osmanthus, sasanqua camellia.
Apples, pears, quinces, figs, blueberries, elderberries and more.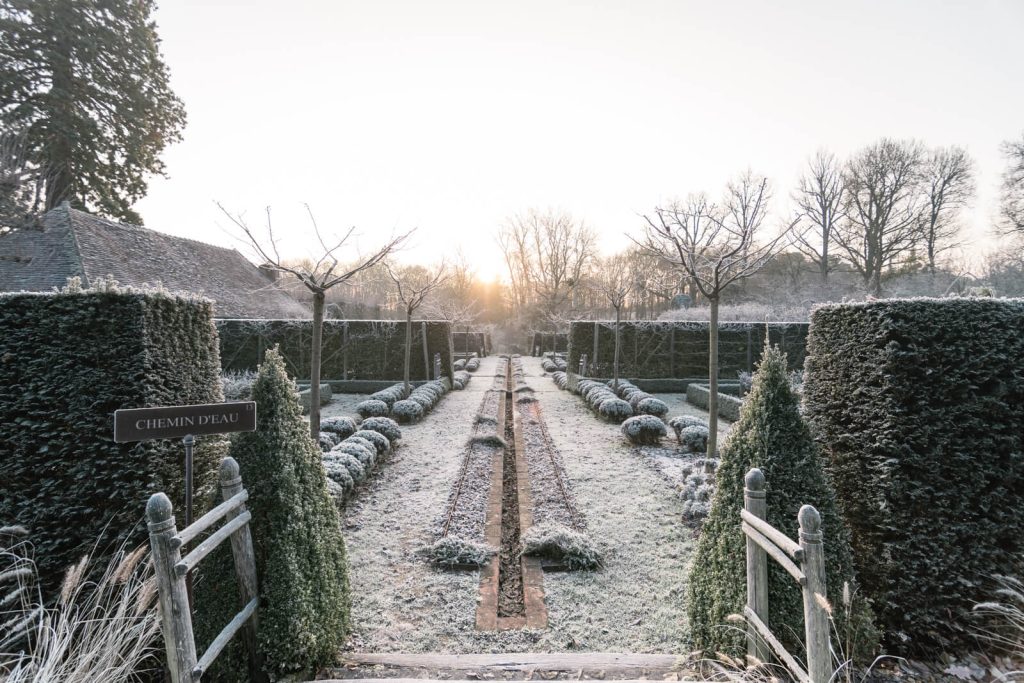 Winter
Successive blooms the bulbs on the lawns, in the flowerbeds, at the foot of the fruit trees; hellebore, hamamelis (witch-hazel), edgworthia, camellia japonica, sarcoccoca, daphne, lonicera fragantissima, prunus.
The beauty of bark and catkin in the winter sun: betula jacquemontii, nigra, albosinensis, acer griseum, liquidambar, salix matsudana, coryllus and salix.
Conifers: abies, calocedrus, cedrus deodora, libani, atlantica, chamaecyparis, cryptomeria, cupressocyparis, pinus artistata et parviflora, sequoia, tsuga